About Vision Exhibits
Meet the Trade Show Pros.
Vision Exhibits began when a team of two professional trade show experts — Janet and Scott — decided to turn their knowledge into a business, focusing specifically on successful client experiences.
Whether you need a exhibit designed to conform to various booth sizes, transported show-to-show, or assistance completing show orders, our passion is finding the solution that best suits your needs. From Lincoln to London, Vision Exhibits delivers engaging environments and premier service. In addition to creating show-stopping exhibits on budget and on time, we also offer full show support before, during, and after the show. From planning and designing to transporting and storage, we believe in superior service and are committed to extraordinary results.
Our passion is to build relationships that extend long past the season's show schedule by ensuring that the memorable experiences are good ones.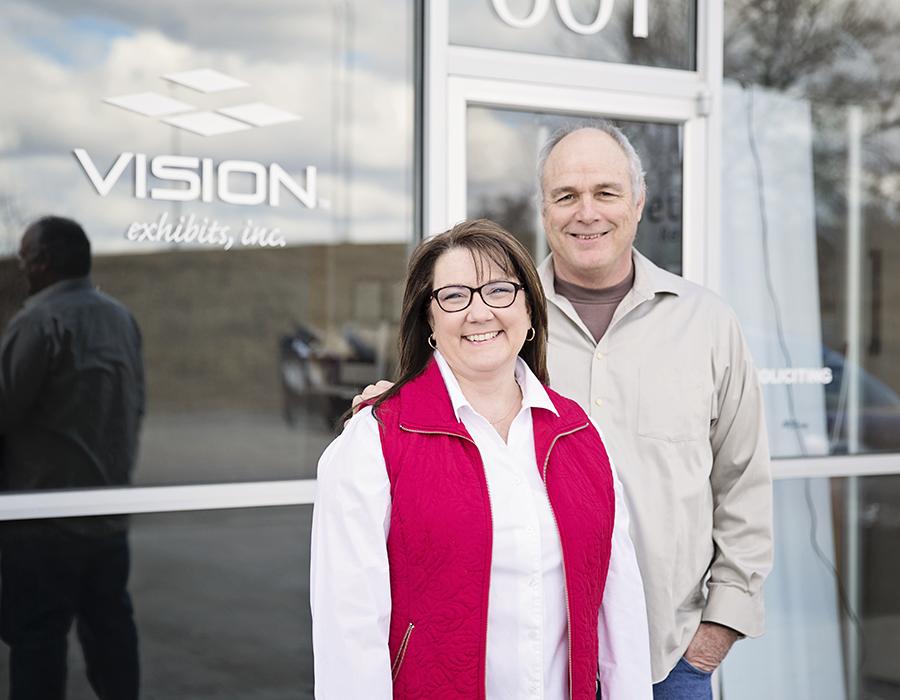 Janet Denison
President of Vision Exhibits, Inc.
Janet offers clients years of experience in the trade show, print and publication industries—in the trenches and in top management positions. Her design work and organizational strategies have been recognized with international Awards of Excellence from the International Association of Business Communicators (IABC) and the well-known MarCom Awards. Add to that, she has earned prestigious national awards from the College Sports Information Directors of America, Silver Quill Awards from the IABC Pacific Plains Region (a 19-state area), and multiple Prism Awards from the Lincoln American Marketing Association. Her innovative concepts inspired the pioneering of one of the region's first online exhibit tracking programs.
An active member of the local marketing community, Janet shares her knowledge of trade show marketing with companies, associations and groups from a wide variety of industries. Clients appreciate her high attention to detail along with her innovative ideas for exhibit and trade show marketing strategy and design.
Scott Denison
Exhibit Services Director
Scott oversees exhibit shipping schedules, carriers, packing, inspections, installations and dismantles. His attention to detail insures exhibits are returned to inventory "show-ready."
After decades of installing exhibits in nearly every major convention city, his on-site experience lends him the ability to understand the ins and outs of decorator, freight, and labor regulations. His experience in graphic production, installation and hardware repairs drives his "can-do" attitude. His on-site and behind-the-scenes production experience has earned him the adoration and respect from trade show managers and exhibit contractors alike.
At Vision Exhibits, we believe in flexibility, especially since trade show marketing often extends beyond typical business hours. That's why we're available 24/7 whether you have a question during installations or you are located outside of our time zone. Our dedicated team extends past the doors of Vision Exhibits. We surround ourselves with reputable and loyal partners who are experts in exhibit manufacturing, graphic production, and logistics. Most of all, at Vision Exhibits we're focused on creating a standard of personal service that clients rave about long after the project is complete.